If you have just bought a game or an app on Google Play but was not pleased with your newest acquisition, it is possible to claim a refund.
In the past you only had 15 short minutes to change your mind, however, Google since then extended their grace period to 2 hours! This gives you enough time to test the purchased application and return it and claim a refund if it's not up to your expectations.
Claim refund before the end of grace period:
1. Open the Google Play Store app on your mobile phone or tablet.
2. In the side menu, select "My Account" option.
3. Locate and select the application you bought, but want to refund.
4. If you are claiming the refund within 2 hours of your purchase, you will see the "Refund" option next to the app in question.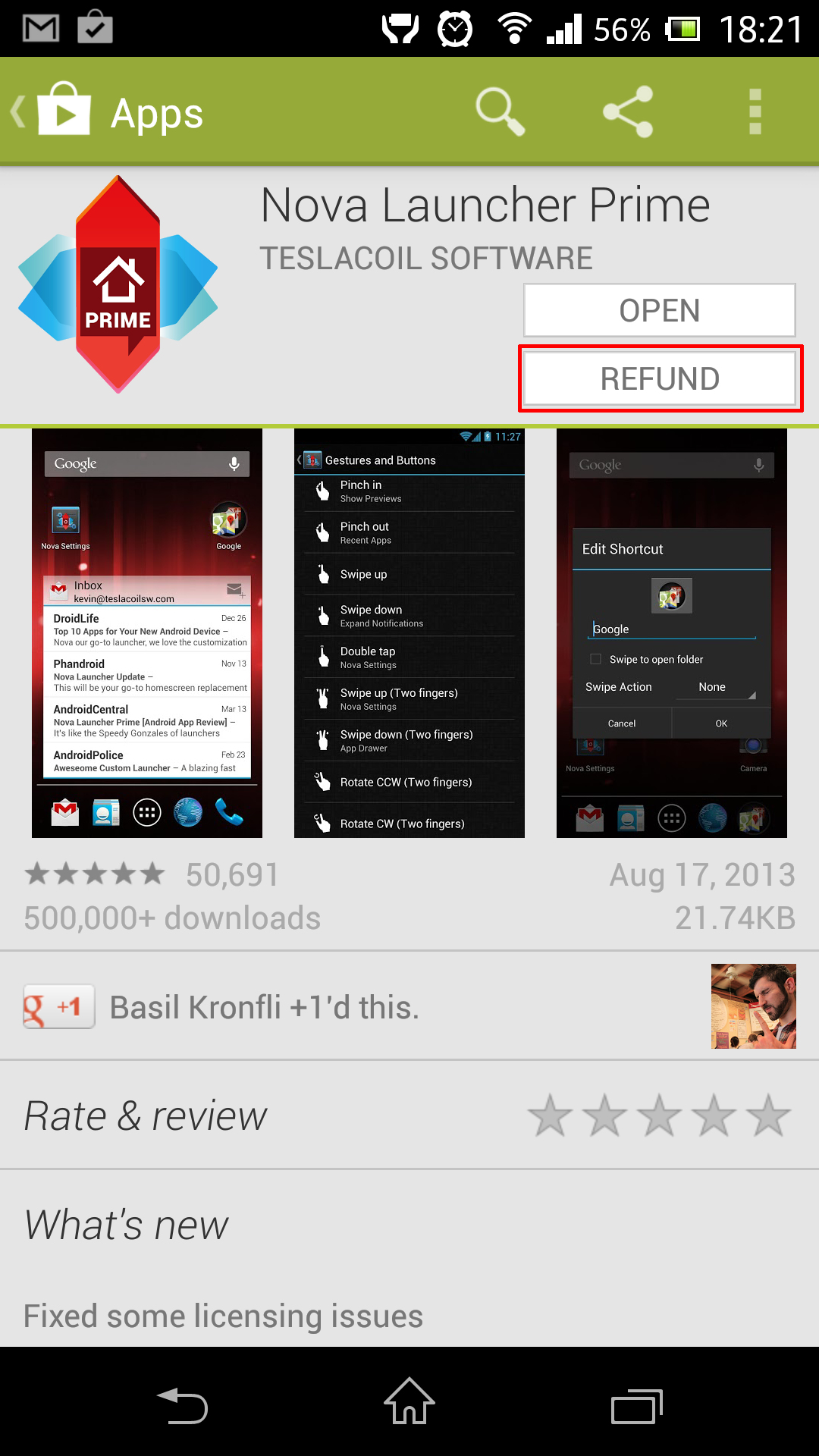 5. Click "Refund" to cancel the order & follow the on-screen instructions to uninstall the app.
Claim refund after the expiration of Grace period
If you decided you do not want the app you recently purchased because it is not like you expected or has issues you did not notice before, you can still attempt to request a refund. However, it is not as easy as within the 2-hour window!
You have two options:
1. Contact the developer directly:
Go to your Google Play account
Click on the app
Scroll down
See 'Developer Information'
click 'Send an e-mail' and explain to the developer what problem you are experiencing
It is up to the developer whether or not he/she will approve your refund
2. Contact Google:
Go to your Google Play account
Select 'My Orders'
Select the app in questions
Click 'Report a Problem'
Then another drop down option icon will appear -> Select 'I'd like to request a refund'
Describe the issue in a clear and objective way
Click 'Send'
Your case will be addressed as a unique case and the refund may or may not be approved
That is all for today!
Do you enjoy our tutorials? Then join the AndroidOut  community and send us your comments & questions!
---
Share on social networks
---
---
---