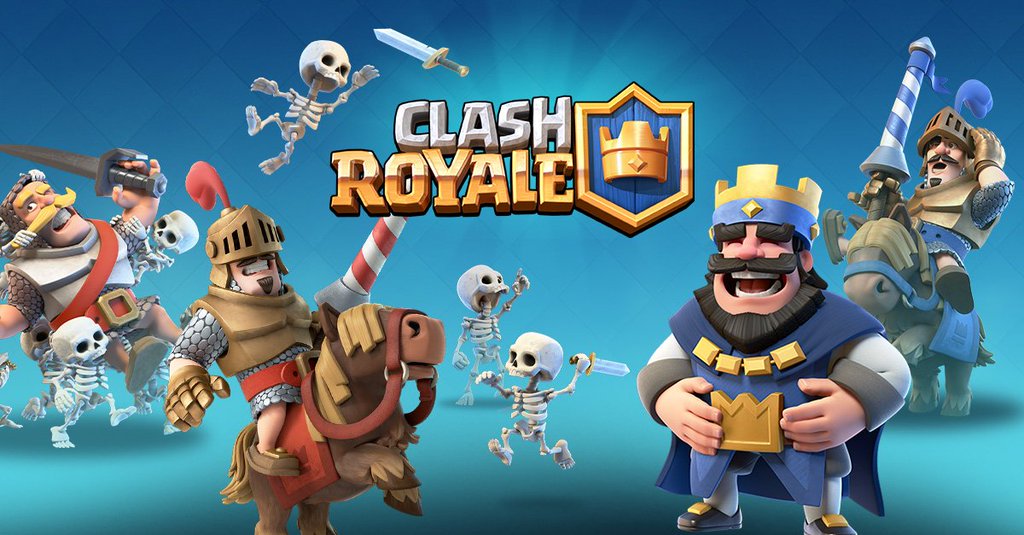 Clash Royale is a great game from the people behind Clash of Clans, and it doesn't disappoint. The trouble is that it's so good, there are so many different ways to become victorious and succeed.
There is also a very fine line between making an action which might cause your game to end in victory, or defeat. So if you're new to the game or if you've been playing since it was released, read on to discover some handy tips and tricks which should help you bring your game up to the next level.

Advice for Beginners:
This section is for the newbies that might be struggling to advance or win often, so take note and improve your winning statistics…
One of the biggest mistakes new players make is they become panicked if too much pressure is put on them or if they lose a tower…our advice? Don't panic! Think through your moves and find a solution to get out of whatever predicament you're in.
Don't waste your coins! Clash of Clans gives you coins by farming, Clash Royale lets you earn coins by winning battles…except if you aren't winning then you aren't earning any of that beautiful currency. Conserve your purchases and think carefully about what might help you advance better.
Upgrading your troops is extremely important…at the same time though do not splash the cash on units you barely use. You'll want to save as much as you can for better upgrades further into the game.
Create a BALANCED deck. There's no point in having loads of 5's as they take so much longer to regenerate. Take your time building your deck and make sure you have a big mix of different units which will open up your options tremendously, especially during the early days of your gaming.
Don't strike first, and remember that defense is your best form of attack. Well for the most part anyway. Try to move after your opponents, it will give you more time to build up your elixir bar and you'll be able to counter the enemy as oppose to them countering you. Devise a strategy and deploy it based on your opponents.

Deck Tips: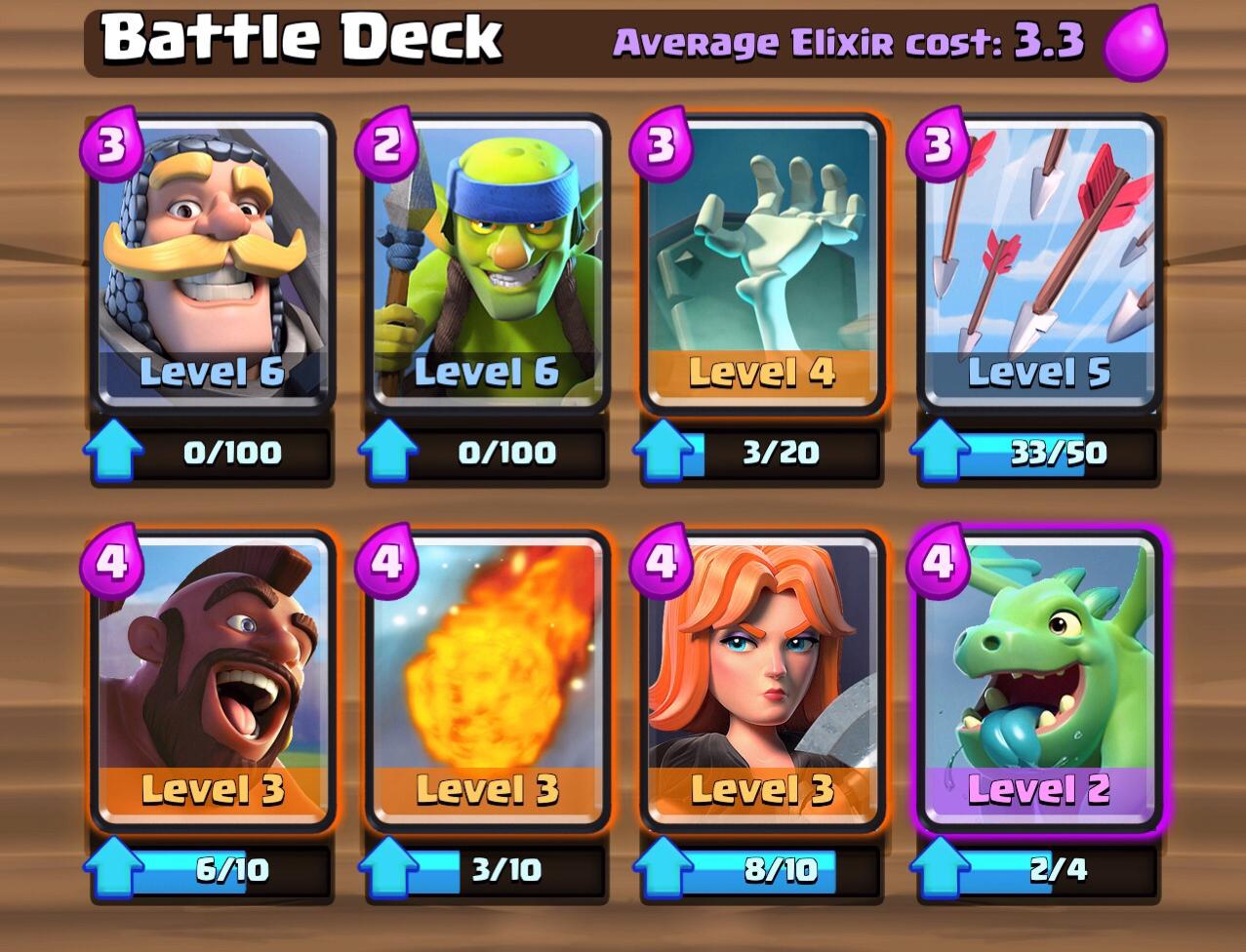 There isn't a 'perfect' deck or even a perfect tactic which will guarantee you victory, however, a well thought-out deck certainly helps give you the edge over your enemies.
You'll want units which are fast. That's a given, so make sure you add them into your deck. Combine them with units which are great against air units, throw in some tower-destroying beauties and sprinkle on some defense specialists. A deck with all of them gives you many possibilities to strategically take down your opponent.
Cater for your own style. If you are the kind of player who goes all out attack, aggressive and tries to put immense pressure on early on, then add more fast units to your hand. If you like to defend and surprise your enemy with counter attacks and fatal blows after they've tried and failed to topple your defense, then add units who can take a lot of punches before they fall.

Strategy Help: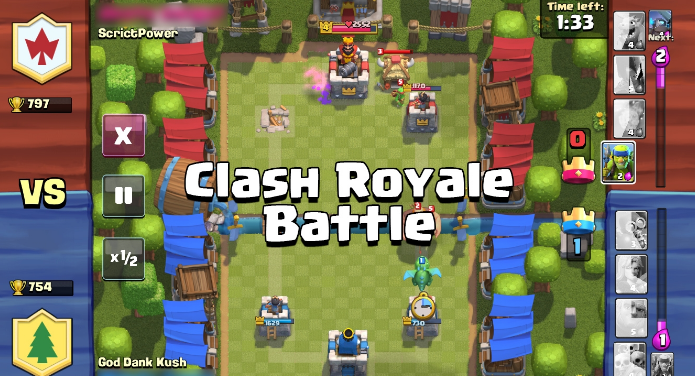 It's no use having a great deck if you're slow at playing your cards and don't really use many units. Take a look at the tips below so you can start working on your tactics which could help you turn that defeat into a victory at the last second.
As mentioned in the beginner tips section, try not to go first so you can let your elixir meter fill up before playing your cards. This will help you more than you think.
If you have a tower which you know is going down, don't worry about it. Don't rush your units to try and protect it, you'll be wasting your time. Instead, deploy your units to enemy turrets or strong units.
If you use ranged units then try to shield them where possible. They can't withstand too much damage so if you can sandwich them between a bomber and a giant then you'll give yourself a much better chance of their survival.
Take each defeat and try to figure out why it happened. Should you have sent out a giant or should you have placed a building somewhere to offer extra protection? Don't get too annoyed when you lose and if you don't want to lose trophies, have test battles when you're experimenting with your deck.
All of your cards are dealt to you at random. This means you can (and at times definitely will) get dealt a weak hand. Don't worry, though, just go on the defensive and take your time, don't rush your moves.

To Summarize:
The key to success is to build a balanced deck, it's that simple. Work out your strengths and build a deck to compliment the way you battle. It's pointless having the strongest units if you only play two cards and you end up being defensive along the way. The greatest thing with Clash Royale is that you'll improve and learn as you play, losing and winning. You'll start to figure out what works for your style and what doesn't.
Let us know your tips and tricks in the comments below, as there is so much information out there in the world and we've barely scratched the surface. So if you're a masterful battler then let us know your secrets.
---
Share on social networks
---
---
---